Orthodontics is a speciality area of dentistry focused on treating irregularities of the teeth and jaws. Braces are a wonderful way to create self-esteem and confidence for anyone at any age – and a beautiful and healthy smile is an investment that lasts a lifetime! One of the most noticeable benefits of orthodontic treatment is a beautiful, straight smile.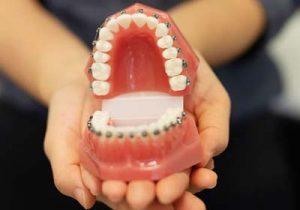 The Benefits of Orthodontics
Orthodontic treatment can also improve your facial appearance as it brings teeth and lips into proportion. Not only will you love your new smile, but in most cases, orthodontics offers added benefits by improving the way your teeth function. Other benefits of correctly aligned teeth after orthodontics can include improved biting and chewing, and reduced tooth wear, along with making your teeth easier to keep clean which in turn reduce your risk of decay.
The Process
Your orthodontic appointments will begin with records of the mouth being taken.  From here your dentist will be able to assess your case and formulate the correct treatment plan for you.  The next appointment, we place small spacers in between some of the teeth to allow room for the orthodontic bands to be placed a week later.  Then finally, the braces will be placed onto the teeth.  Your treatment has now begun and you will frequently see your dentist every 4 to 6 weeks until treatment is complete and the braces are taken off.  The treatment is paid off during this time with deposits left at each appointment.
Booking a consultation appointment with our friendly dentist Dr David Chen or Dr Christie Lee is the first step to exploring your options for a more confident, straight smile.