Has your dentist or Oral Heath Therapist ever recommended fissure sealants on you or your child's teeth? What are fissure sealants and why do we recommend them?  Did you know dental sealants could prevent up to 80% of cavities in your back teeth?
We have fissures or grooves on the biting surface of our molar teeth.  Sometimes, these fissures can be quite deep allowing food to become trapped in them.  Even with brushing, the food can still get caught in the deeper grooves.  Due to the food becoming trapped, the tooth enamel is weakened and decay starts.  When your child comes in for their regular check ups, we will keep an eye on the teeth and often, we will recommend placing fissure sealants to prevent this decay from occurring.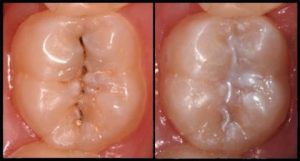 The Procedure
Having fissure sealants placed is very easy and straight forward.  It is non invasive and therefor no local anesthetic is necessary.  Your dentist will start by cleaning out the grooves of the tooth.  Other than a little noise and water – this part of the procedure is very easy.  Once the grooves of the tooth are cleaned out, the area is kept very dry with cotton rolls and air.  This is when the clinician will place the sealant material into the fissures of the tooth.  This is then set with a small UV light.  We then ensure that your new fissure sealant feels right to your bite, then you are on your way!  It is a fantastic, easy and painless way to prevent decay!  If you are interested in having us assess you or your child, please call us to arrange an appointment with Helen – our wonderful oral health therapist.