With many of us locked down in isolation, I thought it would be fun (and maybe helpful) to post some blogs with easy to make recipes.
I have to young boys and one thing we have loved doing during our days lately, is cooking.  Yesterday, we made the most simple, easy and delicious beer bread!  I had never heard of it before, but after seeing it on Facebook, I thought we would give it a go.
It was so simple that the boys (8 and 9 year old) were able to follow the instructions on their own.  We were so happy with the results.  We ate it with butter and golden syrup/strawberry jam…delicious!!  I have the recipe below if you would like to try it!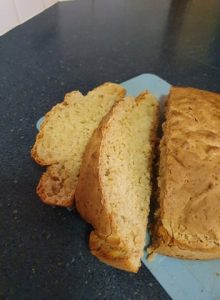 BEER BREAD:
Ingredients
3 Cups – Self Raising flour
1/4 Cup – Sugar
1/2 Tsp – Salt
1 Can Beer – room temp
Method:
Place all dry ingredients in a bowl and mix well
Add can of beer and combine until dough is formed
Add dough into greased loaf tin
Put into oven at 170c
Bake for 45 min
**  You can make a savoury version by adding chives, cheese and bacon or a sweet version by adding raisins ad cinnamon.  Or, keep it simple and plain and serve warm with butter and golden syrup or jam – delicious!!!
We would love to hear from you!!  If you have a recipe that you would like to share, please email us and we will share it.  ipswichdentalcare@gmail.com