There are many toothbrushes out there on the market, but which one is best to use?  Manual or electric? Hard, medium or soft?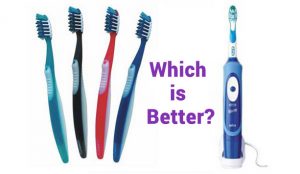 Although some think a hard brush is always good for scrubbing – it is in fact much better for teeth and gums to use a soft bristle brush.  Soft bristles will still successfully remove plaque, while being much more gentle on the soft tissues of the gum.
While manual brushes can still be effective, they do rely on the user to hold the brush correctly and make the gentle, round actions required to clean the teeth and gums correctly.  Electric brushes will make this movement for the user and often display a timer of some sort to ensure appropriate cleaning time.  This can be really helpful especially for the little ones who seem to think a 5 second clean is enough!
While both manual and electric brushes are both effective at removing plaque, the electric brush can be very helpful in assisting patients with carpal tunnel, arthritis and developmental disabilities.  The heads of the electric tooth brush should be changed not later then every 3 months.
Manual brushes also have their advantages.  If used correctly, they will successfully remove plaque.  They are smaller making them much easier to travel with.  It is recommended to replace your brush every 3 months.
To maintain an happy and healthy smile, your dental professional can advise you on the best brush for you.  And most importantly, be sure to keep up with your regular check ups. Or contact us if you require an appointment.